About Auto-DAN
Optimizing the Operational Performance of Small & Medium Sized Buildings
Auto-DAN is a 48 month Horizon 2020 project which aims aims to enable homes and small businesses across the EU to optimize their energy consumption and provide an assessment of the live energy performance of a building which takes into account the quality of appliances/systems installed, user operational habits and the smart readiness of a building.
The project team have setup a project concept that is applicable to all stakeholders & has the capability to be exploited internationally. The smart hardware infrastructure will adopt a flexible approach to ensure it can be integrated into most small buildings regardless of existing automation/metering systems. The technology partners have vast demonstrated commercial experience in smart appliances, ICT equipment & monitoring equipment & each building will receive a hardware installation that is tailored for its existing resources.
Auto-DAN will leverage existing software tools to enable the real-time monitoring of buildings & to enable valuable energy insights that will provide building occupants with energy data about their operations, leveraging the interoperable software architecture that is created through Auto-DAN.
Finally, a novel live energy assessment method will be produced that will be self-assessing in real-time & will advance the current state of the art for energy assessment, as it will incorporate in-use monitoring & factor smart capabilities into its methodology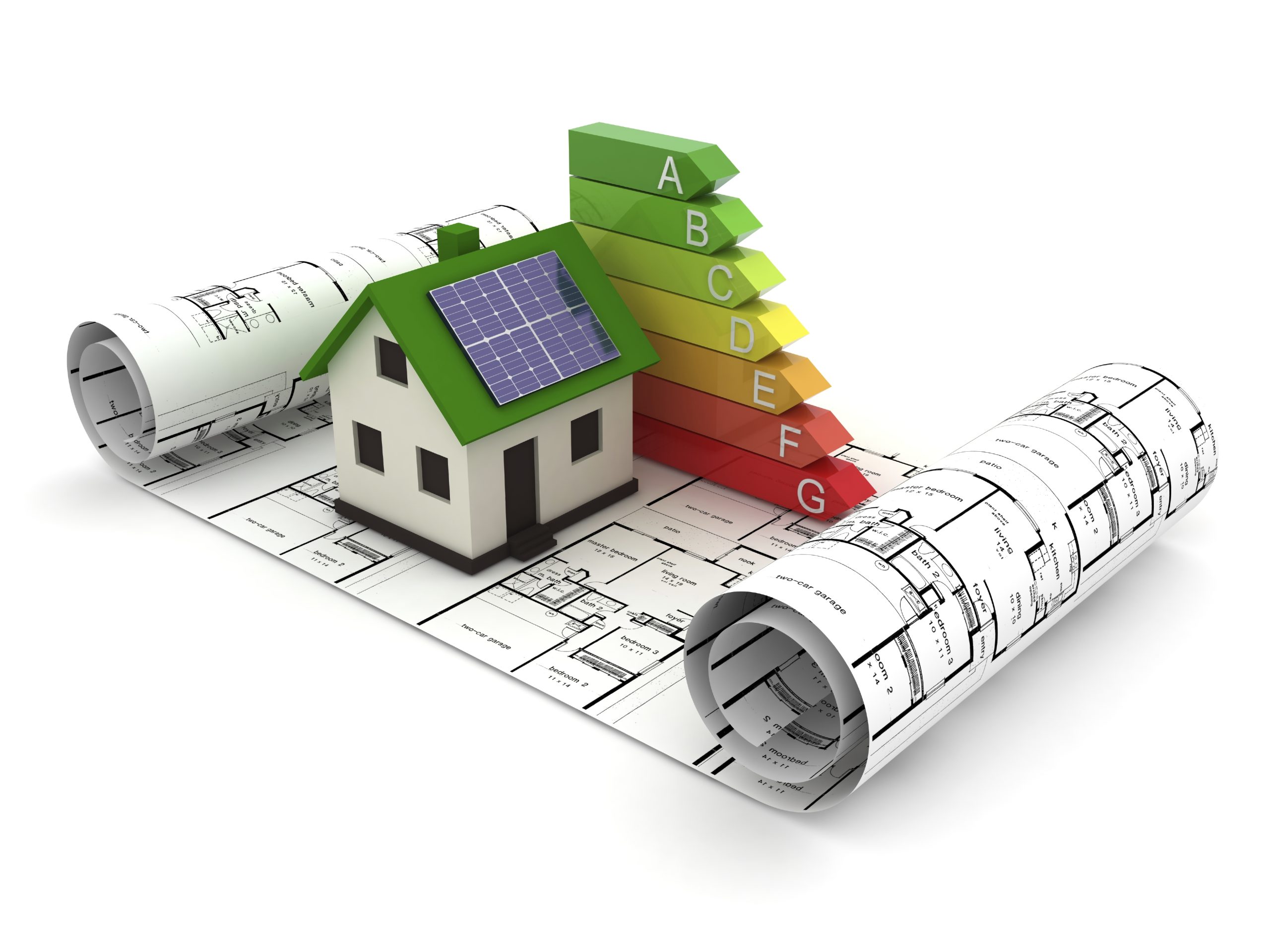 Auto-DAN's Objectives
The main aim of the project is to produce a technological solution that can self-assess and self-optimise buildings across the EU. The project team aim to successfully deliver a demonstration project that will validate a solution routed in augmented intelligence and showcase its replicability. To enable this, the consortium have the identified the following five primary objectives for the Auto-DAN project: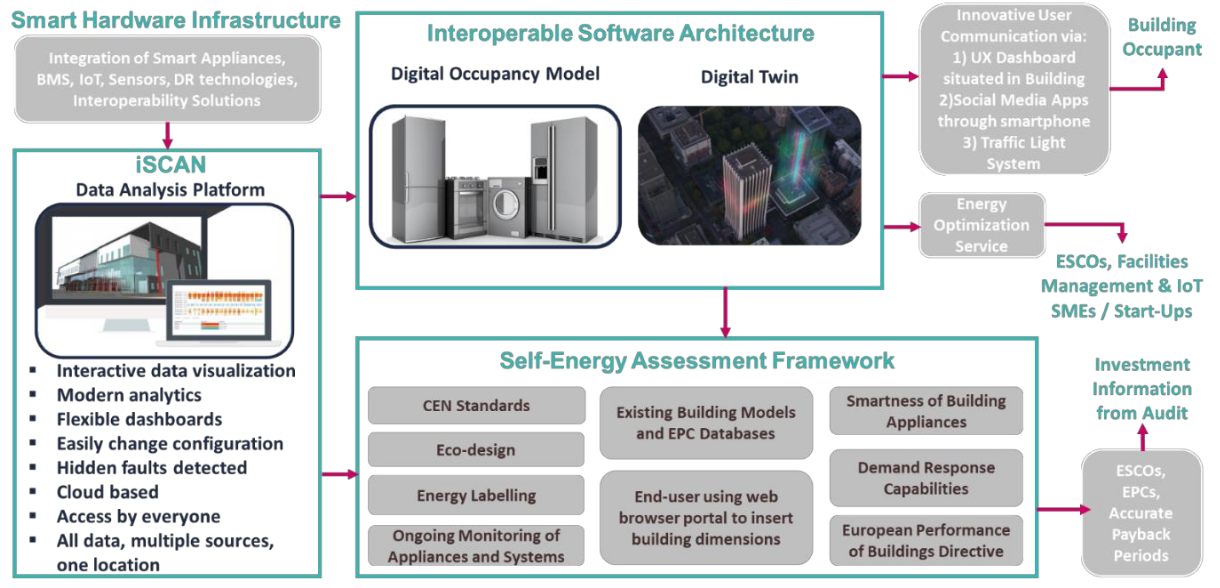 Objective 1
Objective 2
Objective 3
Objective 4
Objective 5
Create a Flexible Smart Hardware Infrastructure that can be applied to all small-to-medium sized buildings.
An adaptable strategy for implementing hardware and smart devices into the EU building stock will be adopted to encompass a wide range of building types (both domestic and commercial). The equipment infrastructure will allow a range of complexity for varying user needs and budgets, from a detailed appliance level monitoring to ML techniques for disaggregation from a single measurement. If financial resources are limited, a singular meter can be installed and ML algorithms can be created to disaggregate the building loads to an appliance and system level. The smart hardware infrastructure will be flexible in adopting new smart technologies that can assist the main the optimising and assessing capabilities of Auto-DAN. This is dependent on existing automated systems across the EU building stock or in development, as building automation systems in the future will be incorporated into the Auto-DAN solution to ensure that Auto-DAN is futureproofed
Develop an interoperable software architecture that can provide all the analytical capabilities needed to self-assess and self-optimise buildings in the EU
AuI is the best way to deliver a self-optimisation solution as it is a combinations of automated controls (e.g. for Demand Response) and user interventions (e.g. turning off appliances). This approach ensures that the building user participates in energy reduction and is an active contributor to energy efficiency. the Auto-DAN project will leverage novel proprietary software packages to develop an interoperable software architecture that will generate self-optimisation actions for the building and its occupants.
These actions can be separated into two groups, namely:
A Digital Occupancy Model: that will provide insights into how the user operates the products in through buildings and how best to change their behaviour. It will identify DR actions leveraging the Home Management System.
The Digital Twin: which is a virtual representation of the physical building that incorporates real weather data as well as the live operational data from the hardware infrastructure in the buildings to provide ground-breaking insights, simulations and forecasting.
Deliver Augmented Intelligence(AuI) solutions to enable buildings and their users to become self-optimising.
The Auto-DAN project is a futureproofed solution that can be applied to all building systems regardless of existing systems. AuI enhances a self-optimisation solution as it is a mix of automated controls with user interaction which will maximise the savings of a building in operation. The optimisation recommendations generated by the software framework will be communicated in interactive ways through specifically designed user dashboards, through social media apps and through innovative traffic light systems on a selection of the most-used appliances. This will promote the AuI theme of the project and will provide an educational benefit for the building occupant/facility managers (FMs) to optimise their own energy consumption, as the smart technology deployed will enhance the user intelligence rather than autonomously changing their operational behaviour without their permission
Create a live self-energy assessment method that incorporates operational monitoring, appliance/system performance and smart capabilities that will improve the accuracy of current energy assessment procedures.
Auto-DAN will advance energy assessment practices by amalgamating the optimum combination
of physical/building data, weather data, real-time operational information about building products and the smart capabilities that a given building should possess (SRI) to generate a new "live" energy assessment system that will have a significant impact on the EU building compliance sector. Current EU legislation on SRI calculation and Energy Labelling/ Ecodesign of appliances will be reviewed before being incorporated into the self-energy assessment framework and the transfer of
relevant KPIs from iSCAN via ML will make the calculation procedure semi-autonomous. The output of this system will be the Auto-DAN audit, which can be used as a data source for users to invest in energy efficiency and in smart appliances and domotics in EU Buildings. Thanks to the "Auto-DAN self-assessment" which is based on live data energy audits will be faster and more accurate as it will be based on actual data while integrating measurement methods under the respective Energy
Labelling Ecodesign legal act
Accelerating investment in sustainable energy by EU companies (3rd Parties) and their Clients
By leveraging DT technology as the basis for the interoperable software platform, Auto-DAN will result in an increase in investment in sustainable energy within the EU. DTs provide a robust mechanism for de-risking energy investments by facilitating a detailed examination of all financial and energy related KPIs at the outset of a sustainability project. Furthermore, innovative partnerships with 3rd Party Technology Companies will provide flexibility to the final solution while accelerating investment opportunities.
Project Progress
Development of the Hardware Infrastructure for Energy Monitoring
95%

Development of the Software Architecture for the Auto-DAN Platform
20%

Development of the Self-Optimization and Live-Audit Methodology
5%

Development of the Digital Twins & Digital Occupancy Models
5%

Demonstration of the Auto-DAN platform in real buildings
1%

Development of new and novel business models to accelerate investment in sustainable energy
5%


Engagement Activities
Project Workshops
Interactive engagement sessions with multi-disciplinary entities and potential end-users.
Demonstrations
Demonstrate and test the innovative energy services in real buildings
Training Sessions
Internal and external training initiatives on integration and interconnectivity
Webinars
Showcase the capabilities and expected impact of the vBMS in live and recorded virtual sessions
This project has received funding from the European Union's Horizon 2020 research and innovation programme under grant agreement no. 101000169
SUBSCRIBE TO OUR NEWSLETTER